Retrofit your gas-powered bus to electric.
*Please note that Lightning eMotors has temporarily suspended its shuttle bus conversion service to focus on new vehicle production only. We will advise you as soon as the service is resumed. Thanks for your patience.*
Did you know that converting conventional fuel buses to electric buses is possible? Electric conversions are an excellent way to try the technology without supporting a high upfront cost and long lead times. 
Lightning eMotors is our partner for electric bus conversions. In addition to manufacturing electric vehicles, the company has diversified into electric vehicle conversion to meet the pressing needs of the transportation industry. Lightning Repower is a solution tailored to make electric power available to more customers faster.
Electric bus conversion benefits.
Electrifying buses in service is interesting for fleet owners who are looking to:
Extend the life of buses in need of a new powertrain

Lowering fleet operating costs

Comply with zero-emission policies

Reduce the acquisition cost of a new electric bus

Circumventing the chassis shortage

Shorten long production lead times

Try an electric bus before purchasing new units
The Lightning Repower modus operandi.
The process is simple. First of all, Lightning Repower experts will assess your used vehicle to determine if the conversion is possible and if it is worth to be done, considering the life stage and the condition of your bus or van.
If your used bus is eligible, it will pass under the skilled hands of the Lightning RePower team. First, they will remove your gas-powered bus's engine, transmission, exhaust system, and fuel system. Then they will replace the entire system with a Lightning Electric zero-emission powertrain.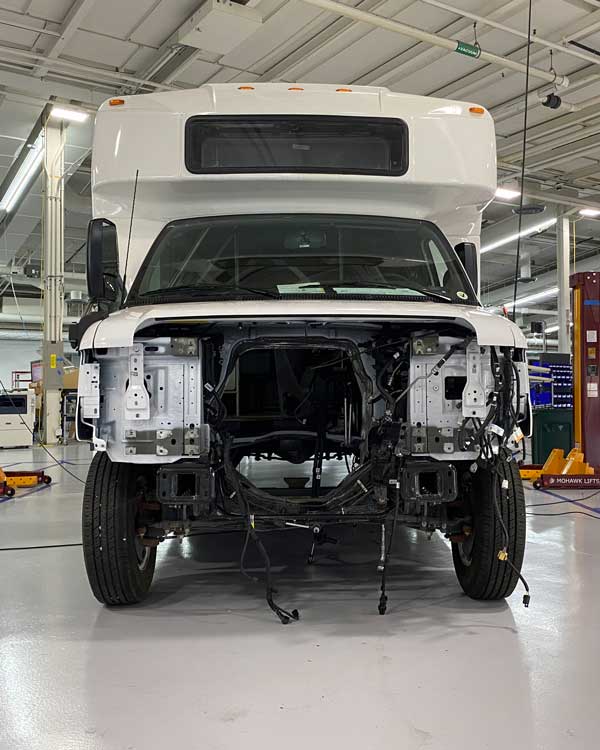 Electric conversions, never compromise on safety.
This operation requires highly trained and skilled technicians. At every stage of the Repowering process, safety and quality protocols are run to ensure the product's reliability and safety.
The electric motor will be configured similarly to the conventional drivetrain by propelling the vehicle through its driveshaft, usually through a single-speed gearbox. Batteries can be mounted inside or underneath the bus, depending on your needs and vehicle specifications. But they will be sealed with a robust framework and covered with compliant shrouding.

New installations:
high-efficiency electric powertrain

batteries packs and their thermal management system 

electric accessories (power steering, air conditioning, heaters, etc.) 

Auxiliary components: brakes (including air brakes), power steering, climate control, etc.) 
Are you interested in converting your bus to electric?
Please note that Lightning eMotors has temporarily suspended its shuttle bus conversion service to focus on new vehicle production only. We will advise you as soon as the service is resumed. 
Get unparalleled support to help you transition to electric buses.
We are ready to help you navigate the process from electric bus specifications to charging infrastructure, service, and financing. We'll introduce you to the future of electric transportation and help you transition to a zero-emission fleet.
Looking for an new electric bus for sale in Canada?
The Crestline value-add:
We offer our customers more than other bus dealers.
We have in-house electric vehicle expertise. Our brand partner, Demers Ambulances, made history in Fall 2021 when they launched the first electric ambulance. As part of the same organization, our bus division benefits from this electric expertise. We share Customer Care Service Center resources and knowledge on properly servicing an electric bus.
We are the only bus dealer in Canada that can customize a standard bus model to match 100% of our customers' needs. From simple storage space to complex system integrations, our Crestline Buses team of 21 engineers provide turnkey and adaptive solutions.
We never compromise on safety. Safety compliance is always our primary concern during all stages of your bus life. From construction to maintenance, our electric buses are handled by professional engineers and technicians in certified facilities and are covered by an unparalleled warranty. Because our company also serves paramedics, we know how important reliability is when transporting people.
Want to learn more?
Enroll in our electrified newsletter to get the latest updates on the electric buses available, incentive programs, and other electric-related news.