Lightning Electric ZEV5 Shuttle Bus
The toughness of the Senator II HD meets
the power of the Lightning electric motors.
Explore the highest-capacity electric bus model in the cutaway product range. Thanks to our strategic partnership with StarTrans and Lightning eMotors, we are pleased to offer the electric version of the Senator II HD shuttle bus. 
With a range of over 160 km, the Lightning ZEV5 Shuttle Bus helps you provide a practical and reliable transportation service while producing zero emissions on the road. With the capacity to carry up to 24 seated passengers and its accessibility options, this electric bus is a good choice for transit and paratransit applications. It is also perfectly designed to shuttle passengers at airports, university campuses, entertainment venues and senior living facilities. Once they try it, your drivers and passengers will want more of this quiet, smooth, clean driving experience.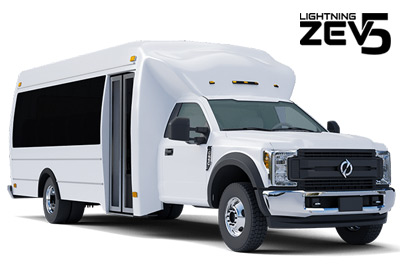 Lightning Electric
ZEV5 Shuttle Bus Specifications
All pictures shown are for illustration purposes only. The actual product will feature the corresponding Forest River Bus model.


16 passengers, 6 wheelchairs
and rear luggage

24 passengers,
2 wheelchairs
Optimize your operations with the next generation of fleet telematics.
Managing your electric bus fleet is essential to optimize vehicle battery performance, operational time and maintenance.
Reliable information is key to helping you to make the adjustments needed to improve your fleet performance, safety, and cost per km. Lightning Insights is a smart and user-friendly solution designed to ease your life in the day-to-day
Empower your fleet manager.
Get real-time data on vehicle tracking on your routes, charging status, and driver behaviour.
Manage with ease your electric bus maintenance, battery health and charging infrastructure. The Lightning Insights software is fully integrated with the Lightning Energy charging hardware.
Get an unparalleled support to help you transition to an electric bus.
We are ready to help you navigate the process from electric bus specifications to charging infrastructure, service, and financing. We'll introduce you to the future of electric transportation and help you transition to a zero-emission fleet.
Explore our electric bus models available.
Want to learn more?
Enroll in our electrified newsletter to get the latest updates on the electric buses available, incentive programs, and other electric-related news. Backed by a 1 year / unlimited comprehensive warranty.*
*A 5 years / 160,000 km bumper-to-bumper warranty is also available, please contact us for more information.