Keeping your bus on the road
Crestline stands by your side, providing an outstanding ownership experience.
We are committed to
reducing unscheduled downtime.
Customer Care is a shared service with the Demers-Braun-Crestline-Medix (DBCM) group. Our network services the majority of ambulances and specialty vehicles on the roads throughout North America. In the paramedic industry, timing matters. DBCM has developed a trustworthy network of service providers and efficient processes to meet EMS expectations.
That same approach to efficiency and reliability is available to our bus dealer customers. We handle each case with the same level of care, no matter the vehicle, location, or fleet size. As a Crestline Buses customer, you benefit from our accessibility and outstanding responsiveness to get your bus back on the road as soon as possible.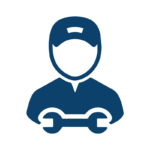 We are a premier service provider.
You can count on us for van or bus maintenance. As Canada's premier bus dealer, we offer on-site assistance, technical training, and advice whenever you need it.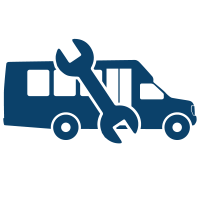 We deliver bus parts fast.
We stock bus parts at locations nationwide for fast delivery. Minimize downtime by working with a bus dealer that offers a quick turnaround on the essential parts that keep you running.
We do the work on claims.
When one of our buses under warranty has a problem, it's on us. We handle everything to minimize the impact on your operations. Need to get in touch with our Customer Care Department?
We work with service centers nationwide.
We partner with local service centers throughout Canada to meet your bus maintenance needs. When we identify a local partner to act as a Crestline Certified Service Center, we ensure they can provide services that conform to our quality and safety standards. This partnership supports the local economy and allows us to be closer to our customers from coast to coast, making Crestline Buses a premier bus dealer in the country.
Crestline Mobile Techs also travel Canadian roads every day, providing customers on-site assistance and technical training.
Visit one of our main Customer Care Centers.
The quality management system utilized in our Customer Care West Location complies with the requirements of ISO 9001:2015 certification. The registration covers the Quality Management System (QMS) for designing, manufacturing, and retail sale of ambulances, rescue vehicles, specialty vehicles, and related products and services. As a bus dealer, we also apply the Quality Management System to the retail sale and final stage assembly of transit, paratransit, tour, shuttle, and other buses and related products and services.